Our Staff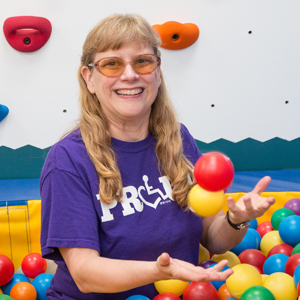 Peggy Ann McCourry, MS, OTRL
Owner of Sensory Systems Clinic West, PLC
Post-professional Masters from Boston University in 2008. BS received from WMU in 1982. She has worked in the OT field for over 30 years in a variety of settings including skilled care facilities, adult rehab, sensory integration based clinics, Dept of Defense schools and Early Intervention programs. Peggy is certified in many different therapy techniques and enjoys supervising OT students at many local colleges.
Peggy opened this clinic in 2011 with the vision to help the surrounding communities after moving to Michigan with her husband when he retired from West Point Army Academy. She has 2 adopted children and 2 granddaughters.
---
Cassidy Burkholder, MS, OTRL

Cassidy graduated in 2014 with a Masters in Occupational Therapy from Western Michigan University (WMU). She was born and raised in Grand Rapids, MI and recently moved to Wayland, where she resides with her husband. Cassidy has experience working in acute care rehabilitation, outpatient pediatric therapy and has a background in Applied Behavioral Anaylsis (ABA) specializing in Autism. Cassidy has always had a passion for working with children and strives to improve the lives of her clients and families. She is certified in the Astronaut Training Program and Bal-A-Vis-X (Rhythmic Balance/Auditory/Vision eXercises for Brain and Body Integration).She continues to pursue continuing education courses and is currently working towards certification as a Certified Autism Specialist (CAS).In her spare time, Cassidy enjoys practicing yoga, participating in community races, volunteering, engaging in arts and craft activities, watching Michigan Football and creating memories with her family and friends.
---
Rachel Carter, MOT, OTRL
Rachel has a bachelor's degree in psychology/minor in theatre and graduated in 2016 with a masters in occupational therapy from Grand Valley State University (GVSU). She was born and raised in Alabama, lived in Orlando and New York City before moving to Michigan in 2002 to reside with her husband. Rachel has taught yoga since 2004 and is an experienced registered yoga teacher (E-RYT200) through Yoga Alliance. She has taught a variety of classes including regular yoga classes, kids yoga, gentle/restorative yoga, and a therapeutic chair yoga class she developed for seniors in 2009. She is also a certified Zumba instructor sharing her love of music, dance, and fitness with her students! Rachel currently teaches 5 yoga/Zumba classes a week, works 2 weekends in hospital acute care, part-time at a skilled nursing facility in sub-acute rehabilitation, and part-time at Sensory Systems Clinic West. She is certified in Interactive Metronome and is pursuing continuing education in sensory integration techniques.  When she is not working, Rachel devotes her time to her 11-year-old son and helping her husband renovate their home.
---
Alexa Clapp, MS, OTRL
Alexa graduated from Hope College in 2016 with a Bachelor of Arts in Psychology with a minor in Exercise Science. In 2018, she received a Master of Science in Occupational Therapy from Western Michigan University. Alexa has experience working with elementary and middle school students as a one-on-one academic support and has level 2 fieldwork experience in both outpatient upper extremity rehabilitation at Bronson South Haven Hospital and outpatient pediatric therapy at Bronson Life Improvement Research Center. Alexa grew up locally and now lives in the area with her husband. She enjoys tennis, basketball, rooting for Michigan State, coaching youth sports, being outdoors, going to the beach, and spending time with family and friends.
---
Elizabeth Libson, MA, OTR/L
Pediatric Specialist
Elizabeth, "Liz", has had a passion for working with children and has done so for over 15+ years. She has experience in the Pediatric OT settings including schools as well as clinical settings with children who have fine motor and gross motor delays, sensory processing disorders, visual motor and perceptual difficulties, and development delays. She also has 12+ years of experience with adults in both the rehabilitation and acute care settings. Liz received her bachelor's degree in Sociology from Calvin College and her master's degree in Occupational Therapy from New York University. She currently is working on a clinical doctorate at Texas Woman's University with a research interest in looking at creativity in treatment.
Liz has obtained continuing education training in SIPT (Sensory Integration Training), NDT (Neurodevelopmental Training for adults), SOS (Sequential Oral Sensory), and IM (Interactive Metronome).
---
Molly Myers, MS, OTRL

As of December 2017, Molly graduated with her Master's in Occupational Therapy from Western Michigan University. Molly also has obtained herBS in Interdisciplinary Health Services. Molly has had a connection with Sensory Systems Clinic West since 2012 when she started her initial job shadowing and volunteering work. She then completed her level 2 fieldwork here before being hired. Molly has always had a passion for working with children as she grew up helping her mom in her kindergarten classroom. Molly also has experience with hand therapy and mental health. She is recently married and lives locally in the Hopkins/Wayland community. Molly's hobbies include spending time at her family's cottage Up North, water sports, sewing, and gardening.
---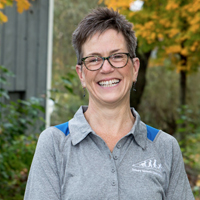 Jeanne Trompeter, MS, OTRL
 With a BA in Special Education from Michigan State University and a MS in Occupational Therapy from Western Michigan University, Jeanne's professional and personal experiences include working with adults and children with intellectual and developmental impairments, adults and children in psychiatric care, non-profit advocacy, and the Peace Corps. She has worked with infants and families through Early On, as well as with adults in the acute care setting. Jeanne continues to pursue continuing education in her desire to meet the unique needs of each child she sees.
Jeanne, her husband and their 5 children have lived in Kalamazoo for the last 10 years after having lived on the East coast as well as overseas. Whenever possible, Jeanne tries to get outside for a run, walk or bike ride… or on a good day, all three!