Our Staff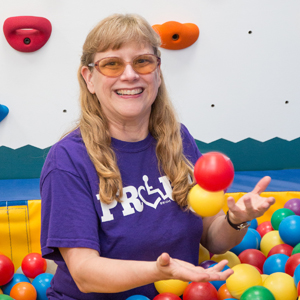 Peggy Ann McCourry, MS, OTRL
Owner of Sensory Systems Clinic West, PLC
Post-professional Masters from Boston University in 2008. BS received from WMU in 1982. She has worked in the OT field for over 30 years in a variety of settings including skilled care facilities, adult rehab, sensory integration based clinics, Dept of Defense schools and Early Intervention programs. Peggy is certified in many different therapy techniques and enjoys supervising OT students at many local colleges.
Peggy opened this clinic in 2011 with the vision to help the surrounding communities after moving to Michigan with her husband when he retired from West Point Army Academy. She has 2 adopted children and 2 granddaughters.
---
Tamara (Tammy) Hodge, Office Manager
Tammy graduated in 1987 with her major in accounting. She applied and was accepted into pre-management positions immediately after graduation. After graduation, credits have been acquired in people management along with several business management courses. Tammy has been in Medical, Warehouse and Retail management positions with over 20 years experience.
Tammy has 7 children, 4 boys and 3 girls with 5 of them from adoption, 2 miniature therapy horses and a rescue dog; and has been married for almost 5 years. She loves to travel, hike in the mountains and read books. Her family believes and attends a non-denominational Christian church.
---
Michael Bleull, Level 2 Fieldwork Student

Michael is a Level 2 Fieldwork student completing his second placement. He completed his undergraduate at Northern Illinois University with a degree in Rehabilitation Services. He is currently completing his Master of Occupational Therapy at Davenport University. He has previously worked as a rehabilitation technician in an assisted living facility working with the geriatric population, assisting therapists with clients exhibiting physical disabilities and conditions as well as various forms of dementia and Alzheimer's. Recently, he has worked at Ebersole Environmental Education Center working with elementary school children from the Lansing School District and teaching them about the importance of our environment and introducing them to outdoor activities. His hobbies include: hiking, camping, and playing guitar. He's often told he resembles the famous PBS painter, Bob Ross.
---
Rachel Carter, MOT, OTRL
Rachel has a bachelor's degree in psychology/minor in theatre and graduated in 2016 with a masters in occupational therapy from Grand Valley State University (GVSU). She was born and raised in Alabama, lived in Orlando and New York City before moving to Michigan in 2002 to reside with her husband. Rachel has taught yoga since 2004 and is an experienced registered yoga teacher (E-RYT200) through Yoga Alliance. She has taught a variety of classes including regular yoga classes, kids yoga, gentle/restorative yoga, and a therapeutic chair yoga class she developed for seniors in 2009. She is also a certified Zumba instructor sharing her love of music, dance, and fitness with her students! Rachel currently teaches 5 yoga/Zumba classes a week, works 2 weekends in hospital acute care, part-time at a skilled nursing facility in sub-acute rehabilitation, and part-time at Sensory Systems Clinic West. She is certified in Interactive Metronome and is pursuing continuing education in sensory integration techniques.  When she is not working, Rachel devotes her time to her 11-year-old son and helping her husband renovate their home.
---
Stacey Mroczkowski, COTA/L
Stacey returned to college and earned her Associates in Applied Arts & Sciences in 2008 to further her education in helping people overcome physical, social and emotional obstacles. Her passion in Occupational Therapy is Neuro-rehab and Sensory Integration. Stacey works for SSCW, Spectrum Health Center for Acute Rehabilitation, and Hope Network Neuro-rehabilitation. Her husband's name is Mike, she has 4 cats and loves to volunteer at an animal rescue; she paints using abstract expressionism, bikes, and gardens.
---
Alexandra Obetts, MS, OTRL

Alexandra previously graduated from Central Michigan University with a Bachelor's in Psychology, and a minor in child development. As of May 2017, she graduated with a Master's in Occupational Therapy from Davenport University. Alexandra worked at Pine Rest Christian Mental Health Hospital from 2013-2016 in the in-patient child and adolescent unit and all areas of the hospital for children and adults with mental health concerns. She spent summers working in North Carolina at Talisman Summer Camps for youth ages 6-22 with Autism, ADHD, and learning differences or volunteering at Lincoln Elementary School. Her hobbies include hiking, camping, yoga, snowboarding, and spending time with her family and friends. FUN FACT: Alex was a Central Michigan Cheerleader from 2008 to 2012.
---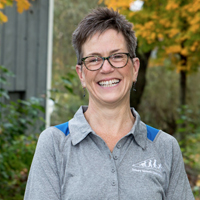 Jeanne Trompeter, MS, OTRL
 With a BA in Special Education from Michigan State University and a MS in Occupational Therapy from Western Michigan University, Jeanne's professional and personal experiences include working with adults and children with intellectual and developmental impairments, adults and children in psychiatric care, non-profit advocacy, and the Peace Corps. She has worked with infants and families through Early On, as well as with adults in the acute care setting. Jeanne continues to pursue continuing education in her desire to meet the unique needs of each child she sees.
Jeanne, her husband and their 5 children have lived in Kalamazoo for the last 10 years after having lived on the East coast as well as overseas. Whenever possible, Jeanne tries to get outside for a run, walk or bike ride… or on a good day, all three!
---
 We're a fun-loving group…